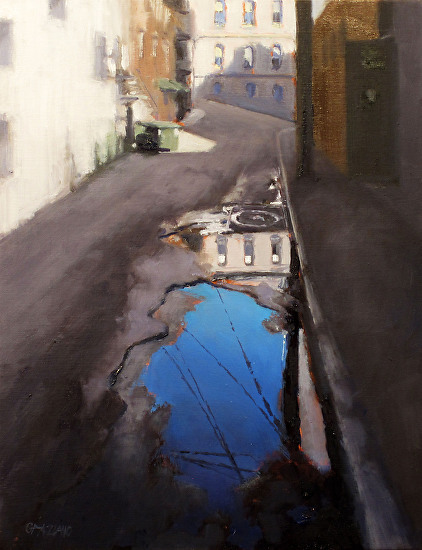 Looking forward to a new year of fresh artistic challenges, creative experimentations and new connections in the art world.
---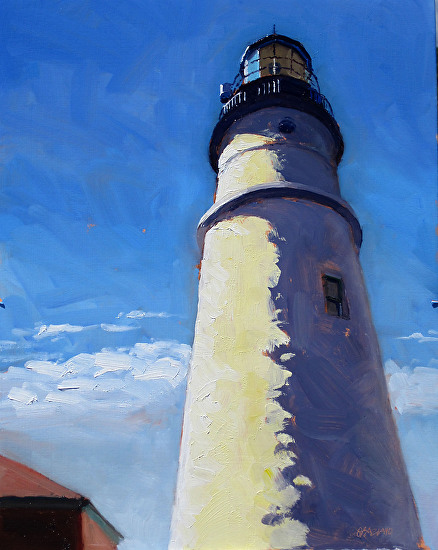 I had a spectacular weekend painting Cape Elizabeth, Maine (my first visit there) and participating in Sunday's Paint For Preservation 2013 auction. For the event, I decided to paint Portland Head Light located in Fort Williams Park. Instead of painting the lighthouse and its buildings from a distance (as done so often), I created a more unconventional composition looking up at the lighthouse from its base - capturing the height and strength of the lighthouse structure illuminated by the early morning sunlight. I was happy with the way the painting turned out and very pleased with the price it brought at the auction later that evening.
---
tin can 6" x 8" oil on panel
---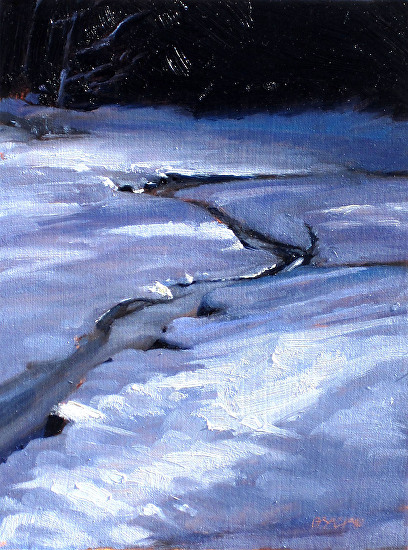 Well, we are definately experiencing the depth of the winter season here in the Northeast. I have been painting the frozen local scenery and am amazed at the sculptural qualities and unique color combinations found in the snow drifts and iced over creeks which have temporarily replaced the summertime fields of wildflowers, tall grasses and leafy trees. The Maine winter has provided opportunities to add an exciting and challenging new dimension to my portfolio, which once was dominated by the sun drenched California coastline and the thick urban atmosphere of Los Angeles.
---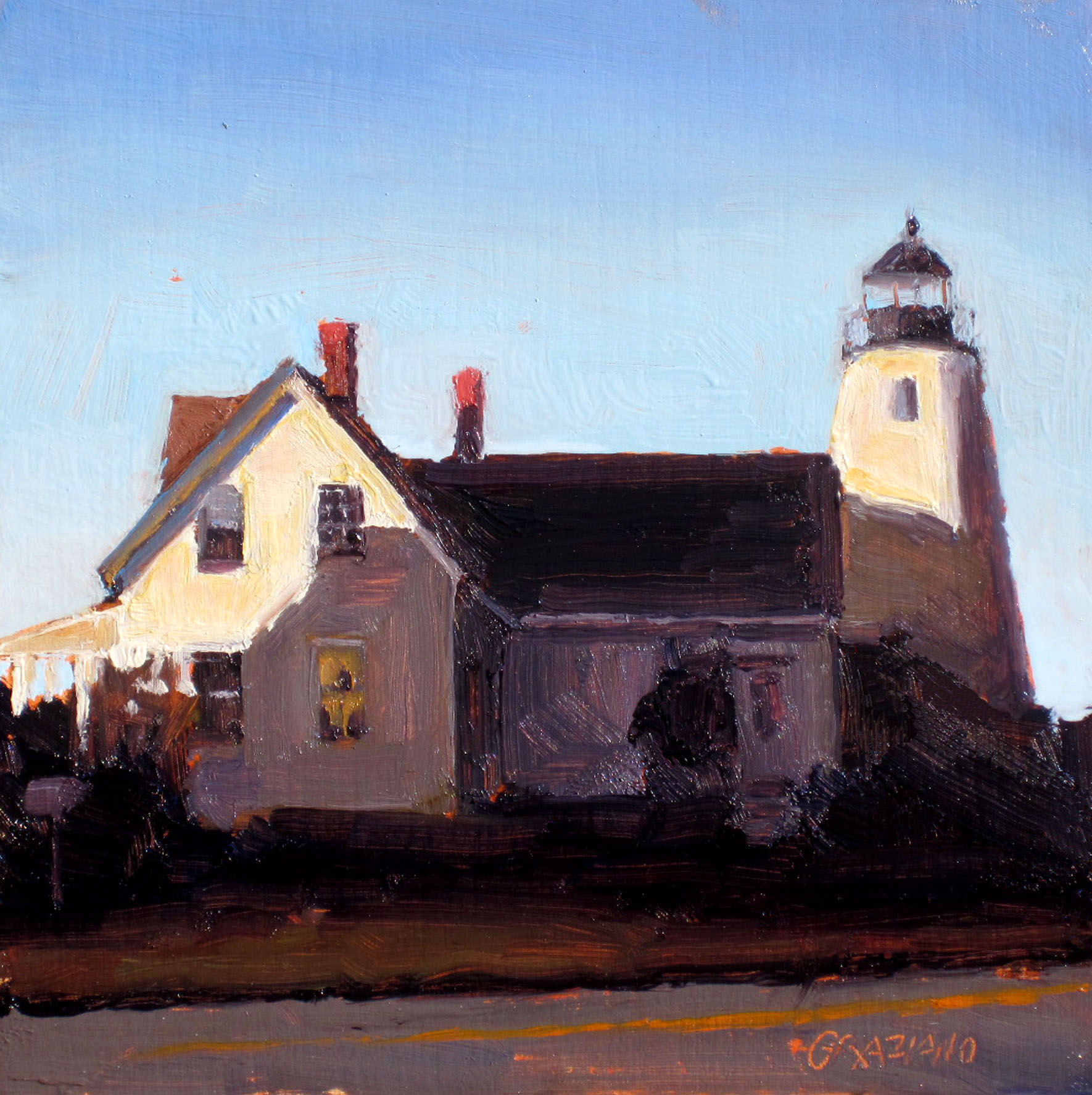 Lucky Hill in Castine, Maine will host a show of my new small paintings at their 2012 Holiday Small Works solo show. The exhibit opens on December 7th with a public reception from 5:00 - 7:00 pm and runs through December 31st. The show's artwork focuses on the picturesque town of Castine and its surrounding coastal landscape. To view the show's paintings, click here.
---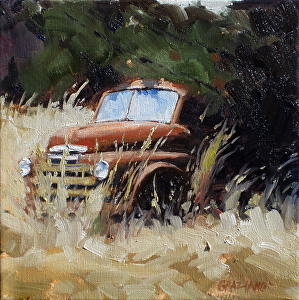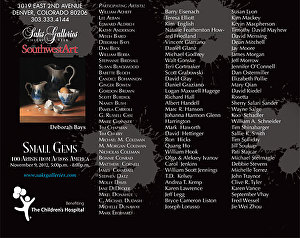 Two of my recent paintings will be included in the American Art Invitational exhibition at the Saks Gallery in Denver, Colorado. The exhibit, which features small works by 100 artists from across the country, opens on Friday November 9 with a gala reception from 5 - 8:00 pm and runs through December 31.
---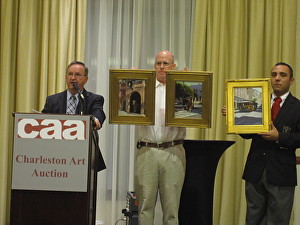 Three of my paintings depicting scenes of Charleston were sold at the prestegious Charleston Art Auction on October 27th. The auction included over 130 works of art by nationally renowned artists which included Kim English, Danny McCaw, Scott Burdick, Dean Mitchell, Stephen Scott Young and Andrew Wyeth.
---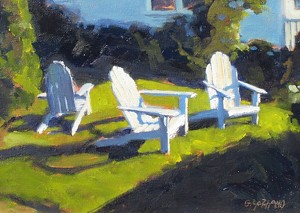 The empty adirondack chairs (Summer's Almost Gone 8" x 10" o/p) is my homage to the end of summer, now that Labor Day has come and gone, kids are back in school and vacationers are back to work. Our little New England town has definitely become more quiet and the locals are deciding when they should pull their boats out of the water. I'm starting to wear sweatshirts and socks again, as the temperature and humidity is falling back into an early autumn crispness. I'll be looking forward to living around fall color again - and anxious to paint images of the town covered in snow.
---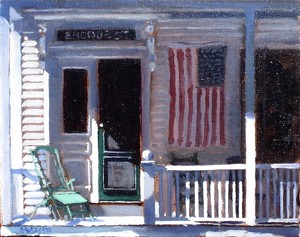 Last March, my wife and I came upon a unique opportunity to open a shop/gallery in one of our most favorite places – the 400 year old coastal town of Castine, Maine on the Blue Hill peninsula. As much as we loved Los Angeles, the chance to begin an exciting new chapter in such an idyllic setting was a very compelling proposition. So we packed up all our worldly possessions (don't ever use Bekins) and made the jump across the country.
Castine is one of the most magical places we have ever experienced – combining New England charm, New York sophistication and a rich legacy of writers, musicians and artists. When we arrived in late June, we were up and running with the store and gallery - Lucky Hill - in record time and have never looked back.
---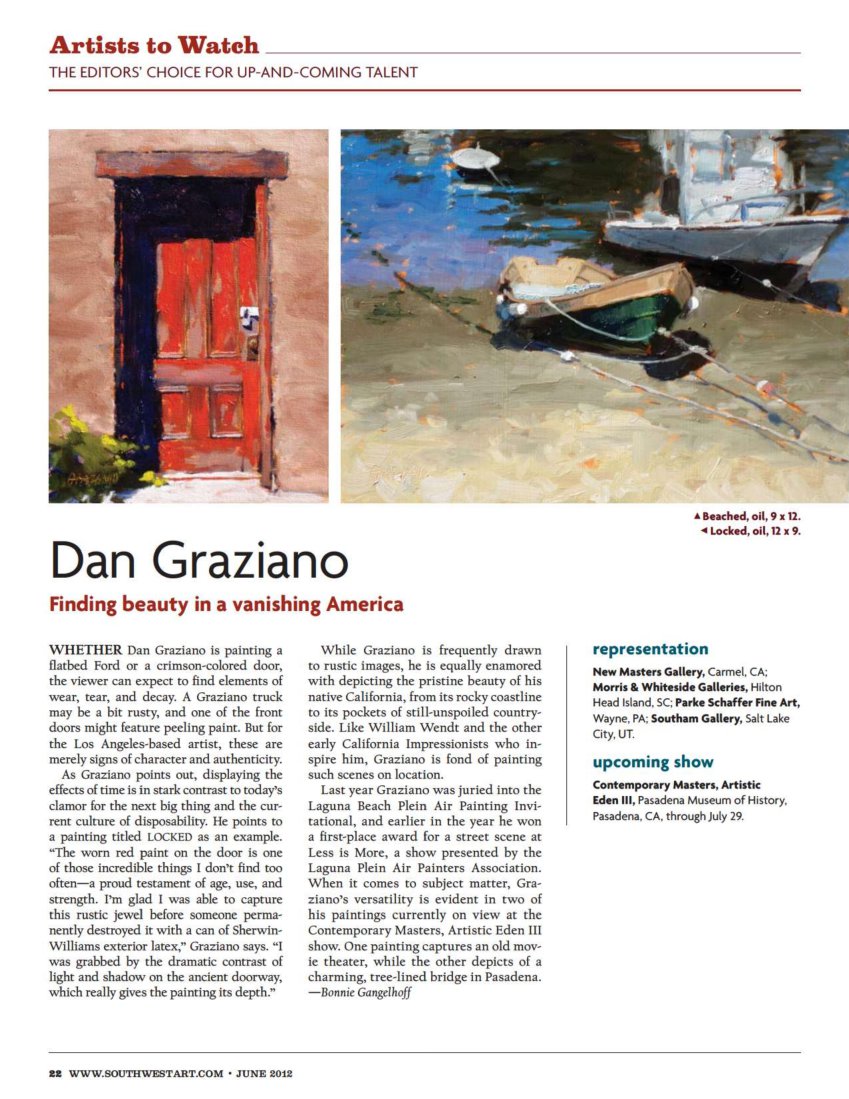 I am very proud to have been selected by the prestigious Southwest Art Magazine as an Artist To Watch in their current June issue. The article - written wonderfully by Bonnie Gangelhoff - features an image of my painting "Locked", which was included in LPAPA's recent "Less Is More" exhibit at the Randy Higbee Gallery.
To be recognized by Southwest Arts Magazine represents a huge milestone for me personally and will also be great news for the galleries which represent my work as well as my collectors.
---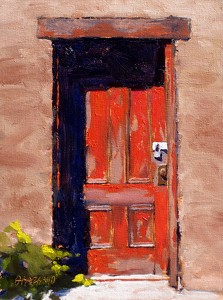 Three of my recent paintings will be included in the Laguna Plein Air Painters Association 6th Annual Less Is More group show at the Randy Higbee Gallery from April 28 through May 12. The show opens on April 28th with a gala artists' reception from 4:00 to 8:00. The gallery is located at 102 Kalmus, Costa Mesa, CA 92626. For more information, visit LPAPA's web site at www.lpapa.org .

---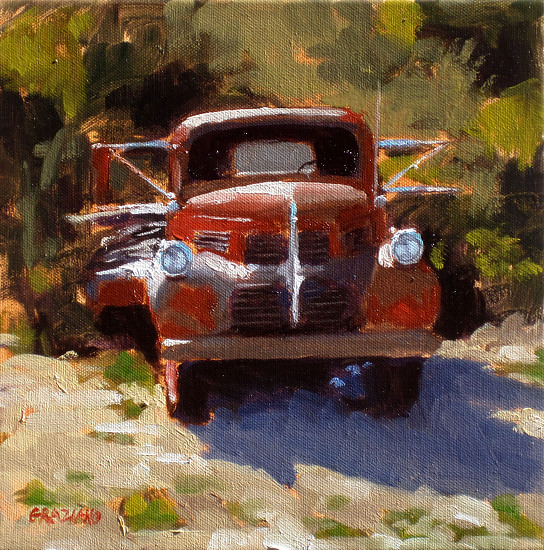 I am extremely happy to announce my new association with the New Masters Gallery of Carmel, California. Since 1974, the New Masters Gallery has developed a reputation as one of the most important galleries on the west coast featuring an incredibly strong roster of national and internationally acclaimed artists. On my first visit to the gallery, I was immediately impressed by the amazing quality of the artwork, as well as the warm and comfortable atmosphere created by its owners. For more information, visit their web site at www.newmastersgallery.com.
---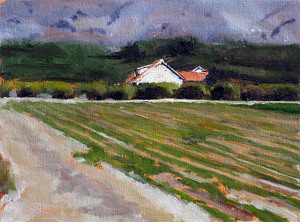 I will be participating in this year's Wayne Art Center Plein Air Festival on May 14 through 19. The sixth annual event will feature over thirty nationally renowned plein air artists who will paint the inspiring landscapes of Pennsylvania's Delaware Valley. The event will conclude on Saturday May 19th with a gala opening and sale of works completed during the festival. Paintings completed during the festival will remain on exhibition at the Wayne Art Center through June 23rd.

---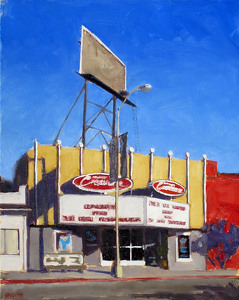 On March 24th, the Jonathan Art Foundation will host an elegant evening of fine dining and fine art at the distinguished Jonathan Club in downtown Los Angeles. Luxurious items and events will be available through live and silent auction, including fine art and photography, distinguished wines, fine hotels, golf and sports events. This annual event supports the Foundation's broad-based art education mission, provides funding for the Foundation's purchase of significant works and helps preserve, maintain and properly display the art of the Jonathan Club and Jonathan Art Foundation collections. Two of my paintings "New Beverly Cinema" and "News Stand" are included in the silent auction. For more information, visit www.jonathanart.org.
---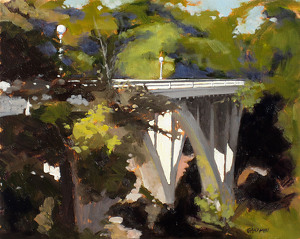 A selection of my recent paintings inspired by the icons and images of the San Gabriel Valley will be included in the invitational art show Artistic Eden: Contemporary Masters III at the Pasadena Museum of History. The show opens to the public on ArtNight, Friday March 9, from 6:00 to 10:00 pm and will remain on display in the Museum's History Center Galleries through Sunday, July 29, 2012.
---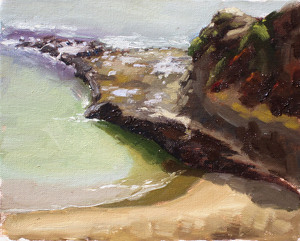 Four of my recent plein air paintings will be included in the Golden West College Plein Air Exhibition at the GWC Fine Arts Gallery along with works by eleven other nationally acclaimed artists. The show runs from February 9th through March 1st with an opening reception Thursday, February 9th from 7 to 9 p.m.
---
Nine of my new paintings, including "Harmony", are included in the Parke Schaffer Gallery's First Annual Holiday Small Works Show. The show's opening reception is Friday evening, November 18 from 5 to 8PM and will run through December 31st. For more information, visit www.parkeschafferfineart.com.
---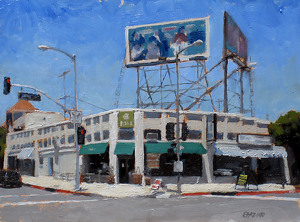 I am happy to announce my new Salt Lake City gallery representative, The Southam Gallery. Now in its 28th year, The Southam Gallery is one of the premier galleries in the Intermountain Region and has built a solid reputation for its exceptional offering of representational American landscape art.
---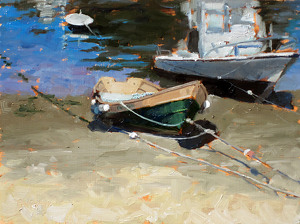 I am proud to announce my painting "Beached" has been included in the prestigious Charleston Art Auction 2011. The annual event features significant paintings, sculpture and vintage prints by deceased and contemporary masters, attracting an extensive group of art collectors from throughout the United States to historic Charleston, South Carolina. The event is sponsored by the Morris and Whiteside Galleries, Sylvan Gallery and American Art Collector Magazine. For more information, visit the Charleston Art Auction web site at http://charlestonartauction.com/.

---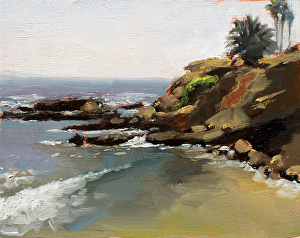 I will be participating in the 2011 LPAPA Plein Air Painting Invitational in Laguna Beach, California. This year's theme for the week long painting event is "Sea, Sage and Sustainability," supporting the important role plein air painters play in depicting and creating awareness about endangered landscapes in a time of climate change and other environmental threats. For more information, visit http://lagunaartmuseum.org/pleinair .

---